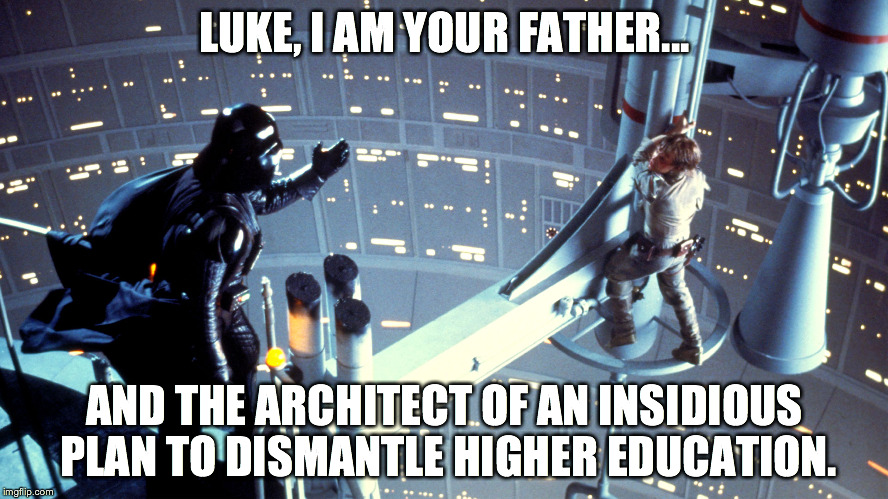 Everybody loves The Empire Strikes Back.  Everybody.  I'll hear no arguments to the contrary; its brilliance as a sequel is without question.  It's a film that doesn't try to chase away the dark plot with too much hope.  The ending, in fact, only promises an attempt to make things right, not a guarantee that the heroes will win.
Lately, though, all of the news about higher ed has made me feel like I'm trapped in this film that I so love.  We hear doom and gloom from all corners of higher ed:  colleges closing (and some miraculously reopening) and frightening shouts of The Disruptors that "Things Have Changed," not to mention the budget cuts as well as the assault on tenure and academic freedom in Wisconsin.  I can almost even hear the foreboding notes of the Imperial March every time I read a new piece about the WI legislature's bill and omnibus motion that will have devastating effects on the students who attend the fine institutions in the UW System.
Yes, these are dark moments, but I sense a Return of the Jedi (in spirit if not in cinematic quality) on the horizon.  One look at what folks like Kevin Gannon, Sara Goldrick Rab, Chuck Rybak, Lee Skallerup Bessette, Jesse Stommel, and many, many more are saying about higher ed on Twitter is enough to convince me that the right people are working on the problems and that there is, indeed, hope for our future.  Budgets might be cut and changes may be made, but one thing legislators cannot do is alter the fact that there are so many people out there who love everything that universities stand for–teaching, cutting-edge research, freedom of ideas–and it is only a matter of time before the pendulum swings back the other way.
I won't do anything as silly as casting parts in this scenario, though it is tempting to think of Greg Semenza as Obi Wan Kenobi, but I will say this:  We'll need fewer C3POs ("We're doomed!") and more Han Solos in the days ahead.